I just love Spring! Doesn't everyone? It's like a fresh start, the green grass starting to grow, the spring flowers and trees and the weather starting to get warmer.
I change the decorations in my home often. If you have been around here much, I'm sure you have seen all the changes.
Our main focal point in the house is our mantle in our Living Room. I absolutely love it. Last week I shared the tutorial for decorating a Spring Mantle using Nature.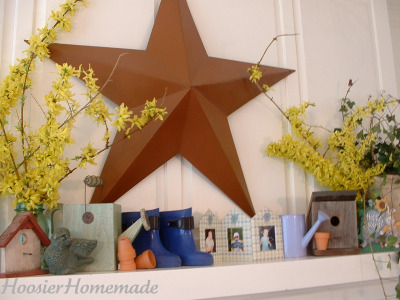 This past weekend, I finally had a little time to finish up the Dining Room. I have shared my little tree with you often, I added some Spring silk flowers and ivy to it. Underneath, I sat a birdhouse and a little doll I made years ago, her apron says, "Everybirdy welcome" 🙂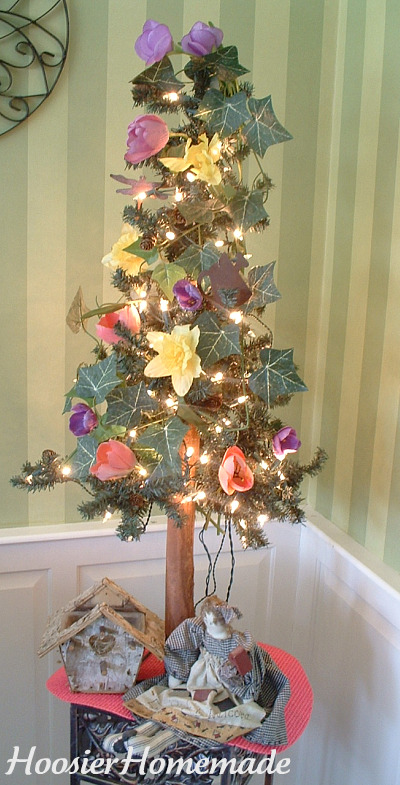 A short while ago, I shared my Monochromatic Hoosier Cabinet. I decided to leave it the way it is for awhile longer, but added my angels, a picture frame with a watering can and my favorite, Bunny Tic-Tac-Toe.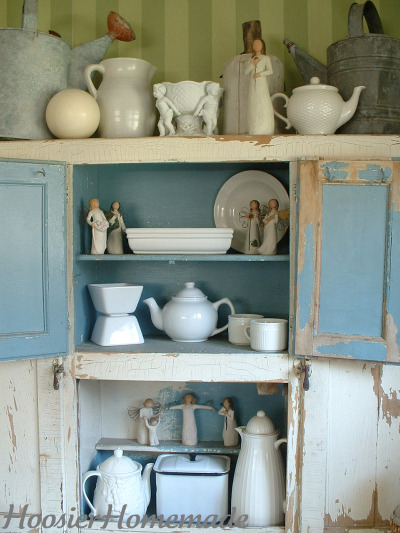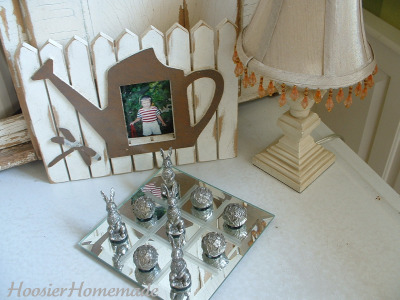 For the Dining Room table, I started with a pretty yellow tablecloth, added a splash of color, a blue pitcher full of daffodils that I cut outside and some cute little wooden birds for added color.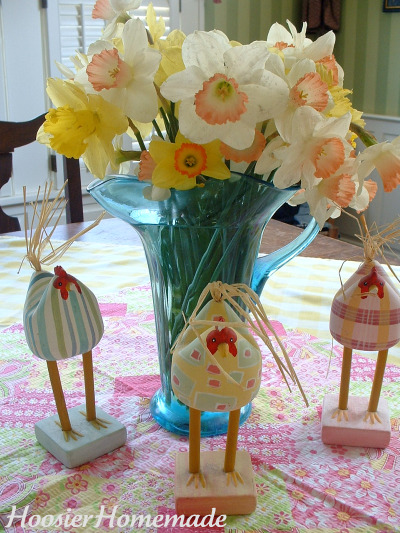 With Spring, also comes baseball, we love it, but our life turns to chaos most of the time 🙂 This is my middle son, Nick, he plays for LaPorte High School.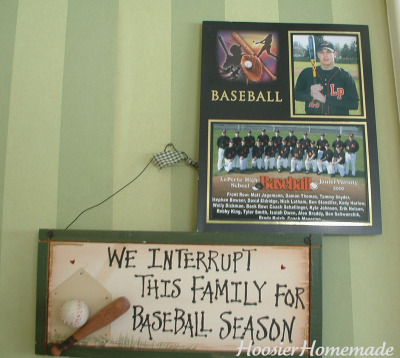 What is your favorite season? Do you decorate for Spring?
This post linked to:
~Show and Tell hosted by My Romantic Home
~Inspiration Friday hosted by The Inspired Room
~Frugal Friday hosted by Life As Mom
~Frugalicious Friday hosted by Finding Fabulous
~Creative Cats hosted by Poppies at Play
~Made By You Mondays hosted by Skip To My Lou
~DIY Day hosted by A Soft Place to Land
~Transformation Thursday hosted by The Shabby Chic Cottage
~Get Your Craft On Thursday hosted by Life as Lori
~Plant a Punkin' Seed Party hosted by Punkin Seed Productions
~Saturday Night Special hosted by Funky Junk Interiors