Memorial Day is upon us, that day when we recognize our men and women who have served in our military forces. But these uniformed heroes deserve a bit more than one day of celebration for their work, don't you think? Walmart does, and that's why they've made a commitment to our nation's veterans.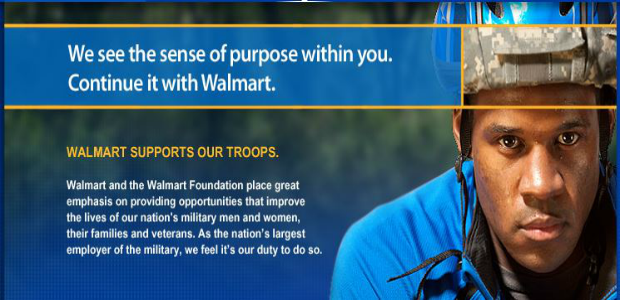 As part of their commitment to creating jobs in America made earlier this year, Walmart has promised that veterans who have been honorably discharged in the past year will be offered jobs (as long as they meet the standard hiring criteria). Walmart sees the leadership, and strength that our nation's veterans possess; and they wish to use these talents to their greatest extent.
With this commitment, Walmart anticipates that they will hire at least 100,000 veterans over the next 5 years. Our veterans have already fought enough for our country; they shouldn't have to fight for a job as well.
Walmart is grateful for the service and sacrifice of our nation's veterans. Through ongoing donations, partnerships and programs designed to meet their specific and often unmet needs, Walmart and the Walmart Foundation actively support the heroism of veterans and their families.
Not only is Walmart providing jobs for Military Veterans, they are also growing our economy.
For more information, visit Walmart's Careers with a Mission