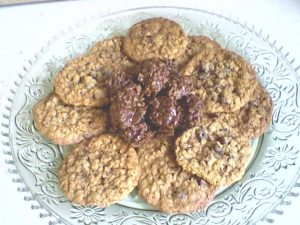 Today on Life As Mom, the Ultimate Recipe Swap is all about Favorite Cookie Recipes. And, as usual, I couldn't make just one, so I have 2 to share with you. These are both family favorites and both come from my Mother-In-Law's collection.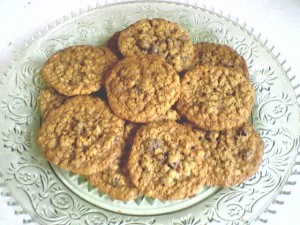 Chewy Oatmeal Cookies
1 c. Flour
3/4 t. Soda
1/2 t. Salt
1 t. Cinnamon
1/4 t. Nutmeg
3/4 c. Soft Shortening (I use Butter Flavor Crisco)
1 1/3 c. Packed Brown Sugar
2 Eggs
1 t. Vanilla
2 c. Uncooked Oats
1 c. Raisans
Sift together flour, soda, salt, cinnamon and nutmeg. Add shortening, sugar, eggs and vanilla. Beat until smooth.  Stir in oats and raisans. Drop by teaspoon onto greased cookie sheet and bake at 350 degrees for 12-15 min.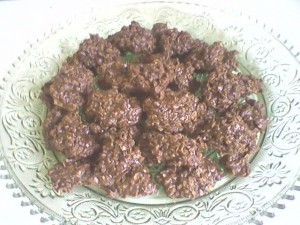 No Bake Peanut Butter Mounds
1/4 c. Butter or Margarine
1/2 c. Milk
1/2 c. Peanut Butter
2 c. Sugar
1/3 c. Cocoa
3 c. Oats
2 t. Vanilla
Mix sugar and cocoa in heavy saucepan, add butter and milk. Bring to boil, stirring constantly and boil about 2 min. Remove from heat, stir in oats, then peanut butter and vanilla. Mix well. Drop by teaspoon on waxed paper. Let cool.